Tapping Products
Naugra Medical is a leading Tapping Products manufacturers, suppliers, and exporters in India. As top-rated Tapping Products manufacturers, we, Naugra Medical, dedicatedly serve several hospitals, nursing homes and medical clinics in worldwide. We have a good name in the medical industry for top quality of products we sell.

Our full range of Tapping Products meets the standards specific to a hospital or clinic. As reputed Tapping Products suppliers in China, we constantly focus on creating more value for the medical fraternity.

Being a renowned Tapping Products manufacturers in India, China we are delivering our products to many foreign hospitals and medical organizations on a regular basis. We have enviable technical expertise in efficiently handling bulk orders, meeting stringent deadlines without any delays.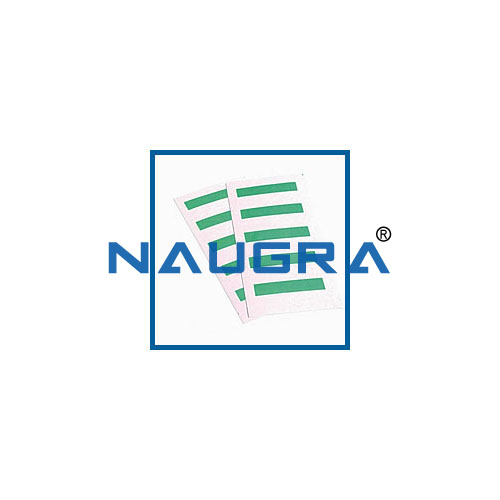 Product Code: NMCBS81001 - (Steam Indicator Strips)
Steam Indicator Strips Each strip is a sticker, provided with a upper half green colour & lower half blank to write. Directions for Use of Steam Indicator Strips: Do not handle the green portion to avoid staining. Please use ball pen only when writing details. Write place, date & type of sterilization equipment, you are using (Autoclave / Portable Pressure Cooker / Sterilizer) on Indicator Label. Stick or place the Indicator Label on the upper portion of the dressing drum in case of autoclaving OR On the upper side portion of the upper rack in case of portable pressure sterilizer (Pressure Cooker). For the first time do the sterilization as you are doing routinely. Note the time in minutes you had continued after required pressure built up. After sterilization is completed allow the autoclave / pressure sterilizer to cool down. Note the colour of the upper green portion of the Indicator if turned Black/Grey or not, if this has changed to Black/Grey colour, this indicates that the sterilization cycle was proper. The autoclaving cycle should be followed in this manner - Start the autoclave with instruments & other items, allow the autoclave to reach the pressure 15 lbs/sq. inch visible from the guage mounted on the lid. In case of portable pressure sterilizer a whistle will be heard then maintain the pressure for 25-30 minutes, switch off stove and allow cool down the sterilizer. Please keep the labels in cool & dry place in the plastic bag provided till their use. Steam Indicator Strips, Tapping Products exporters, Tapping Products manufacturers....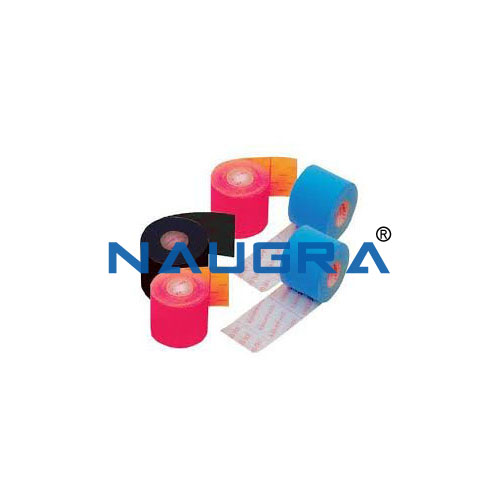 Product Code: NMCBS81002 - (Kinesio Tape)
Kinesio Tape We offer Kinesio Tapes that is used for taking care of sprains during orthopedic treatments. It can prove to be instrumental in relieving pain, fastening recovery and improving strength in damaged muscles. Product Details : Properties-Medical Polymer Materials Type-General Medical Supplies Colors-All major colours Given below are some notable features of the Bio Balance Tape we offer: Elastic cotton & spandex substrate Elasticity 170~190% Strong and reliable stickiness Soft and comfortable Good tensile strength Porous, allow skin to breathe Leaves no residue on body parts Water resistant Kinesio Tape, Tapping Products exporters, Tapping Products manufacturers....